What exactly is SMALL GROUP TRAINING (SGT)?  Small Group Training is our group personal training program.  SGT includes BOOT CAMPS like SweatShop, Bad, Bad, Superbad Boot Camp, TRX Boot Camp and Tabata Boot Camp. We do our Boot Camps  inside and outside, rain or shine, at the park, in the dark, at the river, in weather that'll make you shiver, here and there, anywhere and everywhere because they are Boot Camps, not day camps, or beginner camps, or nursery school, or babysitting.  BOOT CAMP.
SweatShop is intense, 6 weeks long and is what we consider to be our most advanced BC.  It's a lot like basic training in the military and includes all disciplines of training – old school workouts, intervals, rough terrain workouts, boxing, and a host of other physically exhausting exercises.
We also conduct programs that operate  at various  intervals  throughout the year. All of our specialty programs are conducted by our certified Personal Trainers and are tailored to fit the specific needs of each group.
SweatShop is designed to push you into a new level of fitness and is designed for people who are already in shape and want to push beyond their normal level of fitness. This BC is not recommended for anyone who has a chronic injury or physical issue.
Bad Bad SuperBad Boot Camp is like SweatShop but shorter.  It's intense because we cram everything into a 2 -4 week period instead of 6.
Tabata Workshop. This all new high intensity workout is designed to help you re-set your metabolic system.  Tabata workshops are held in one and two day intensive sessions and is based on the Tabata method of training. You will work the Tabata method with our head trainer, Lisa Buckner, then take home a series of Tabata workouts that you can do on your own.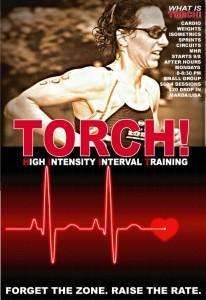 New this year is our TORCH! class that is basically HIGH INTENSITY INTERVAL TRAINING. TORCH! will include
a variety of training methods (ie Tabata, Barre, Circuit,Boxing, Sprints, Core, etc) inside and outside AFTER HOURS. Because
we need full access to the gym so we meet after everyone else leaves.
This SGT class meets for 30 minutes one night a week for the month.  Marda and Lisa team train TORCH! and we limit the
number of participants to 10 so that everyone receives maximum attention.  Thirty minutes may not sound like much, but
just ask anyone who has taken TORCH! and they'll tell you it's enough.