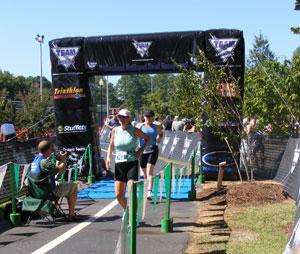 No matter what your personal goals are, our trainers will develop programs to help you attain those goals. It doesn't matter if you're 25 or 65 – we are trained to develop fitness programs that work for the individual, and our goal is to train you to be able to carry these basic principles into your everyday life.
GETTING STARTED WITH A PERSONAL TRAINER
We'll help you decide which trainer you'd like to work with based upon your personal needs: Do you want to lose weight, gain strength, improve your overall fitness, rehab an injury, or beef up your body? It doesn't matter – we have trainers who specialize in each area. It's your choice. Once you set your goals, we'll help you schedule an initial meeting where your trainer will discuss the program, do a preliminary fitness evaluation with you, and schedule your future appointments. It's that simple.

ABOUT OUR TRAINERS' TRAINING
A lot of gyms advertise personal trainers as part of their membership program. Unfortunately, many of these trainers are not certified, know very little about fitness and weight training, and are used to get you in the door.
At InsideOut, not only are all of our personal trainers certified, but they are certified through one of our house approved, national certifying agencies. In fact, we only employ trainers from the top five certifying institutions in the country, and all of them are required to obtain at least 15 hours of continuing education training each year.
BASIC PERSONAL TRAINING RATES (Single Sessions and Packages)
Single Full Session – $70 (One Hour)
Single Mini Session – $50 (Half Hour)
Package of 12 One Hour Sessions – $675
Package of 12 Mini Sessions – $475
Please check with your trainer regarding the availability of other packages
EXERCISE TRAINING Rx
Level I (2 week program) – $100
Level II (4 week program) – $150
Level III (6 week program) – $210
We also have group rates and Giant Package Rates for those of you who want to maximize economy and purchase up to 24 sessions at a time.
SPECIAL PROGRAMS, WORKSHOPS & BOOT CAMPS (Meet at designated times during the year – See front desk for details)
MEET OUR TRAINERS